C-Hawkk Construction Inc. started in the spring of 1989 with Alvis, the father and founder of the company and his son Kevin in Western Kansas. Henrietta and Kara, Alvis's wife and daughter worked behind the scenes in the office as the glue of the company while Kevin and Alvis worked countless hours in the field taking on as many projects as the day could hold. Soon after its inception C-Hawkk recruited William, Alvis's second son; Brent, his son-in-law and eventually Alvis's youngest, Clint. The C-Hawkk name represents the family names C- Clint, H- Henrietta, W- William, K- Kevin and K- Kara. The C-Hawkk family story is one that has its fair share of blood, sweat and tears and they may have been a small company at the time but they knew it would grow into something much larger if they all remembered one thing "service is all that matters and it is what will make all the difference".
Since that time C-Hawkk has grown into a traffic control industry leader, servicing the greater Kansas City area. They pride themselves on being one of the only truly family owned and operated businesses left in the industry. Working with C-Hawkk is like working with family; you talk to a "real human being" on the other line, you receive prompt responses to your questions and inquiries and your projects are diligently handled from start to finish.
You can rely on the C-Hawkk family for all of your traffic control and safety supply needs. You can count on your job done getting with good old fashioned customer service and care.
Visit C-Hawkk Properties for the same great service when renting your next home!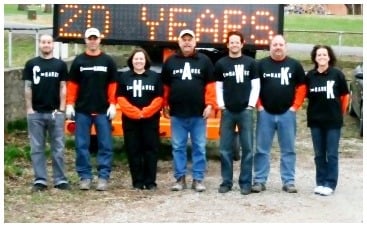 "I was a general contractor for 12 years and used C-HAWKK Construction exclusively for all my traffic control needs. Whatever they were, C-HAWKK took care of me whether it was signs, traffic control or striping on a major project or just a phone call to them asking, What do I need for this little deal? Kevin and the rest of the team took care of all my needs. There is no body better then C-HAWKK CONSTRUCTION"